HYALU-SQUAD Triple Hyaluronic Acid Serum
Best Selling Clean Beauty!
Hyaluronic acid is one of the best known and referenced moisturizing and hydrating cosmetic ingredients. Hyaluronic acid containing products are very popular on the market, but it was our goal to formulate a unique product with benefits surpassing the currently available products.
Triple-Hydrating Hyaluronic Acid Serum contains three types of hyaluronic acid of differing molecular weights, distinguishing it from current hyaluronic serum products on the market.  Combining three types of hyaluronic acid gives better results to the user than a single Hyaluronic Acid type.
The ultra-low weight Hyaluronic Acid will be absorbed through the skin and moisturize from within. The ultra-high molecular weight HA will not absorb through the skin and will moisturize from without and the mid-weight Hyaluronic Acid will have features and benefits of the other two.
The Ultra-High Molecular Weight Hyaluronic Acid (known under the tradename Hyacross ™)  has undergone extensive clinical studies showing benefits for skin elasticity, skin smoothness, and skin hydration.

Skin Elasticity
Compared to the control group, the skin elasticity of Hyacross™ group was significantly increased. After 4 weeks of application, the relative skin elasticity increasing rate for the Hyacross™ group reached 21.6%
Skin smoothness
Randomized, double-blind placebo-controlled evaluation of Hyacross™ was carried out on 20 healthy females. The result showed a significant improvement in skin smoothness appearance on 35% of the volunteers after 30 days.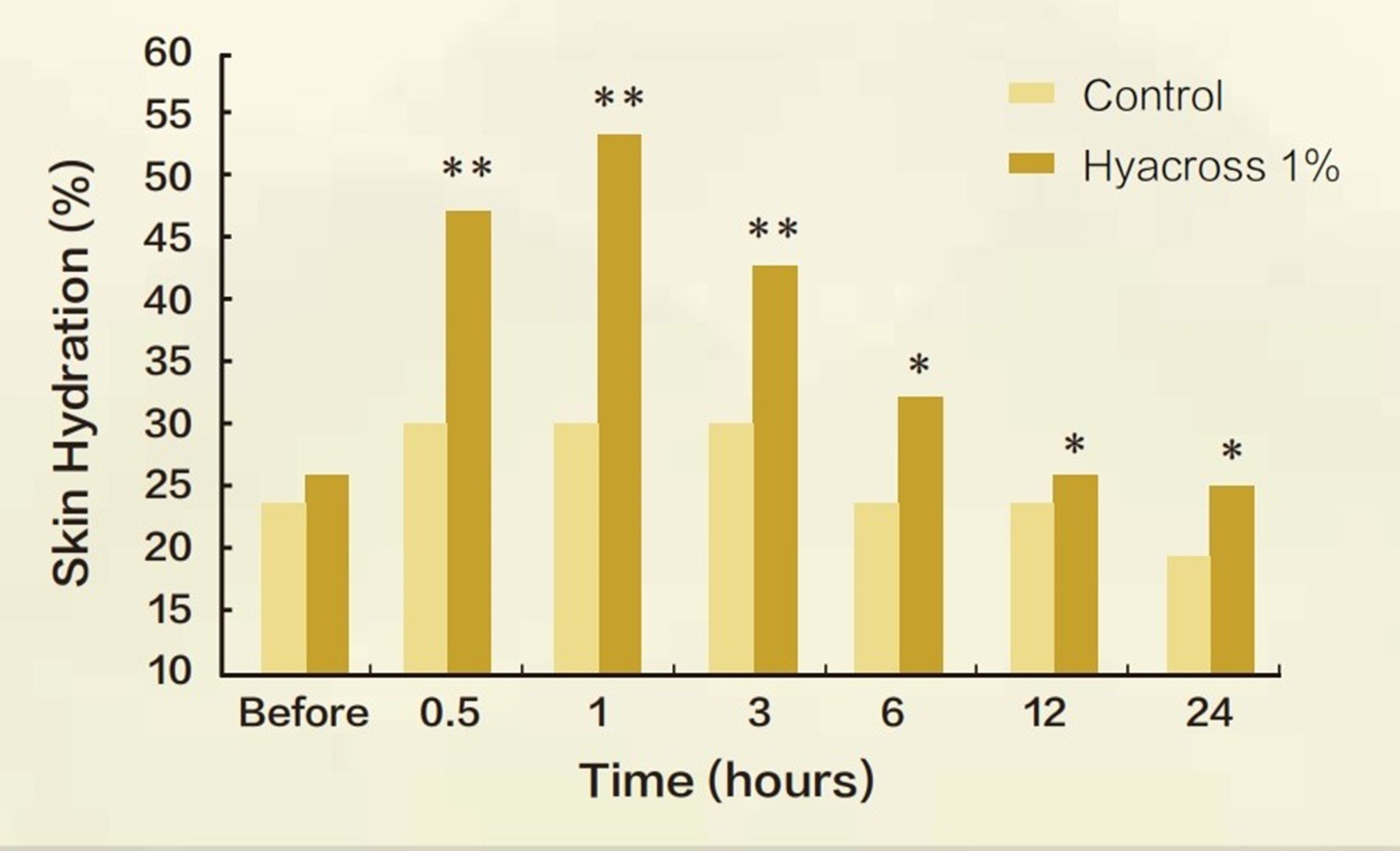 Skin Hydration
Compared to the control group, the skin hydration of the Hyacross™ group was increased by 85% after 0.5h and 110% after 1h. Hyacross™ increased skin hydration even after 24h.
In addition to the three forms of Hyaluronic Acid, the product contains several certified organic extracts (aloe vera, chamomile, green tea, and olive leaf).